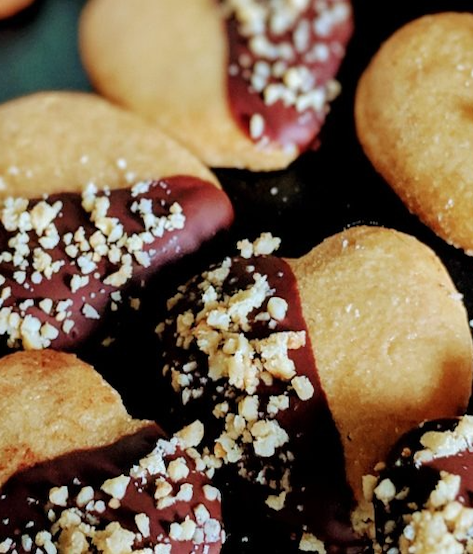 Almond- Cashew cookies are the healthiest cookies that you can think of… it comes together with only 3-Ingredients Almonds, cashews and maple syrup. These cookies are chewy and melt in mouth cookies that are super addictive.
Almond-Cashew cookies are not only delicious but they are gluten-free, dairy-free, vegan, low carb, nutty, soft, and simply amazing! Oh, and they're Paleo, too! so whatever diet you are in, these cookies works.
As Teething Cookies for babies: These Almond-Cashew cookies dont have any baking soda or baking powder, so these are good as teething cookies too(just make sure that they are not allergic to nuts)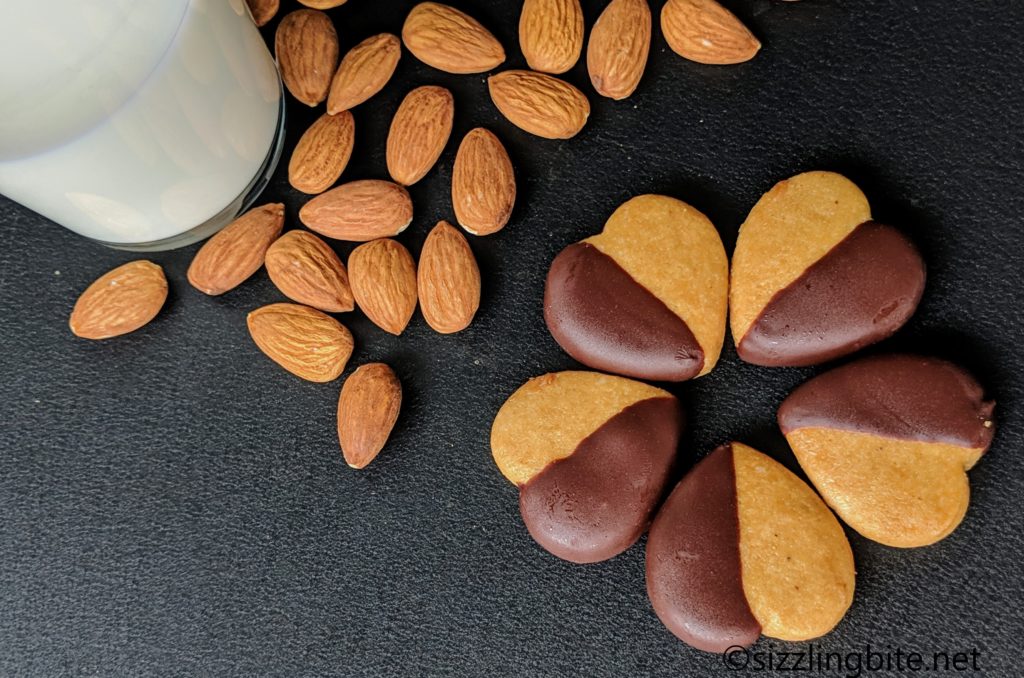 These almond-cashew flour cookies are made with a combination of blanched almond flour and cashew flour. The combination of the two flours makes a better texture cookies.
Must roast cashew nuts before processing it.
Roast cashew nuts either in oven or stove top and then process them in a food processor or blender.
In Oven: To pre-roast the nuts, spread nuts in the prepared tray in a thin layer and bake at 180ºC for 10 mins or until golden and fragrant. Set aside to cool completely.

On stove Top: Take a heavy bottom pan on low to medium heat, add cashews and keep on stirring till you see the cashews turned to a golden brown.
Making Cashew flour
Let the Cashews cool completely then grind the cashew nuts, process the roasted nuts in small batches with short pulses, stirring in between until the nuts are finely grounded. Do not over-process cashew nuts or else you will end up with cashew butter.
Sieve the cashew flour and then mix with almond flour and maple syrup. Do not knead the dough.
Kneading and over-working the dough will make it releasing more oil and will make the cookies tougher.
Do not use a large cookie cutter to cut the cookies.
"These cookies are wonderful for lots of holidays throughout the year. I love making heart cookies on Valentine's day and pumpkin bread rolls for Halloween." - Haritha
Course: Dessert, Snack
Cuisine: American
Preperation Time: 20 minutes
Cook Time: 20 minutes
Total Time: 40 minutes
Servings: 18
Ingredients
Almond flour: ¾ cup
Cashew flour: ½ cup
Maple syrup: ¼ cup
For Chocolate Dipping
Chocolate Chips: 3⁄4 Cup use dairy free chocolate chips for vegan
Instructions
Add all ingredients to a bowl and stir until you reach a soft dough consistency. Depending on how fine your almond flour is ground you may have to add a tiny bit more almond flour or a little bit more maple syrup to get to the right consistency. It should be the same as any other sugar cookie dough.

Preheat oven to 250 F (120 C).

Wrap the dough in parchment paper or cling film and freeze for approximately 15 minutes.

Roll out dough in between two pieces of parchment paper to about ¼ inch. Remove top layer of parchment paper.

Cut out cookies with cookie cutters and remove excess dough.

Repeat the rolling out and cutting out and placing on a second baking sheet until all dough is used up.

Bake cookies for 20-25 minutes depending on how thick you rolled them out. Keep an eye on them after 20min. Almond flour burns easily.

Remove from the oven and place the cookies on a cooling rack.

Let cool completely and then store in an airtight container.
To Make Chocolate Covered Cookies
Put your completely cooled cookies in the freezer in a single layer. Use a baking sheet for this. Freeze them for 15-20 minutes.

Then, melt your favorite chocolate chips in a double boiler over low heat stirring constantly.

Once the chocolate is nice and runny, remove from the heat. Take out your ice-cold cookies and dip into the chocolate, lift up and let excess chocolate drip back into the bowl. The chocolate should harden pretty fast due to the coldness of the cookies.

Once the cookie stops dripping, lay on the cold baking sheet on which it was in the freezer. Repeat this with all cold almond cookies and again return to freezer for about 10 minutes and they're good to eat.
Recipe Notes
Notes: While melting chocolate, don't use high heat and keep stirring the chocolate or else it starts to clump and becomes all yucky. So please be patient, It only takes a couple of minutes.

Variation: you can use only almond floor instead of mix flours. For 1 cup of almond flour add 1⁄4 cup of maple syrup.