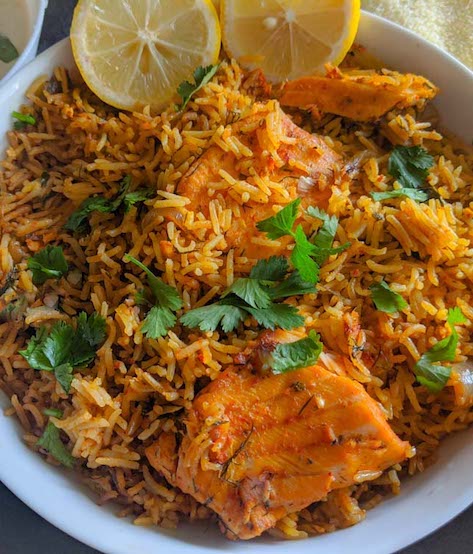 Instapot salmon fish biryani is a one-pot meal that is super aromatic, delicious and pressure cooked to perfection in Instant Pot. Every weekend we crave for biryanis at home and it doesn't matter if its chicken, mutton, fish or shrimp. We love all of them.
Preperation Time: 30 minutes
Cook Time: 20 minutes
Course: Dinner, Lunch, Main Course
Cuisine: Indian
Why I like to make fish biryani in the instant pot?
It is a one-pot meal
You just need 20 minutes to marinate fish
Perfectly cooked rice with each separate grain and fluffy
Choosing kind of fish?
Any firm thick fish works like Salmon, Carp, Halibut works. Fish steaks with bone-in works best, but as we have kids who don't prefer to eat fish with bone-in, we choose Fish Fillets.
With fish steaks it is easy to handle but if you are using fillets be very careful while dishing out that is take the rice out first gently and then take the cooked fish out gently.
Adding Dill to Fish Biryani
This fish biryani has the goodness of salmon and Dill leaves gives unique buttery lemon flavor. Fresh dill Compliments in this particular fish biryani, if you don't have it you can also skip this step but I recommend to add as it enhances the flavor.
Process
How to make perfect biryani?
First thing is to choose extra long Basmati rice, some of the bands I like are Tilda, India gate, Kohinoor and Royal.
Soak the rice for 20 minutes and drain the rice this helps to get the long grain.
Marination of fish is a must and don't skip it.
How to make Instapot Salmon Fish biryani
On saute mode: saute the thinly sliced onions for 5-8 min then add dill and fry for a min then add marinated fish and then rice and water close the instant pot and turn the pressure valve to sealing.
Set to manual pressure mode and adjust the time to 5 min.
Follow with quick release and garnish with cilantro.
Serve with raita and lemon wedges.
Ingredients
Marination
Salmon: 2 Pounds
Ginger-Garlic paste: 2 tbsps
Kashmiri red chili powder: 1.5 tbsps
Biryani masala: 1 tbsp
Salt 2 teaspoon
Turmeric ½ tsp
Lemon juice: 2 table spoon
Yogurt ¼ cup
Main Dish
Basmati rice: 3 cups
Onion: 1 large
Ghee: ¼ cup
dill leaves: 1 Cup
Mint leaves: 12-15
Salt: 1.5 tsp
Water: 3 cups
Cilanthro: 1⁄2 cup
Bay leaves: 3-4
cinnamon stick: 2 inch long
Cloves: 3-4
Green cardamom: 2
Instructions
Mix all the marination ingredients except fish. Taste the marinade for spice and salt. Now add the fish and set aside.

Wash Basmati rice and soak for 20 minutes. Drain and reserve.

Turn on the instant pot and on saute mode add oil + ghee and add bay leaves, cloves, cinnamon, cardamom fry thinly sliced onions for 5-7 min till the onions are translucent.

Add dill leaves and fry for a couple of minutes and then add marinated fish, cilantro and mint leaves.

Then add Rice, 2 tsp of salt and water. Gently push the rice underwater.

Close the lid and turn the pressure valve to sealing. Set the Instant pot to Manual/ Pressure cook mode and set for 5 minutes. After 5 minutes do the quick release.

Your Fish Biryani is ready, garnish with cilantro.

Serve with raita and lemon.