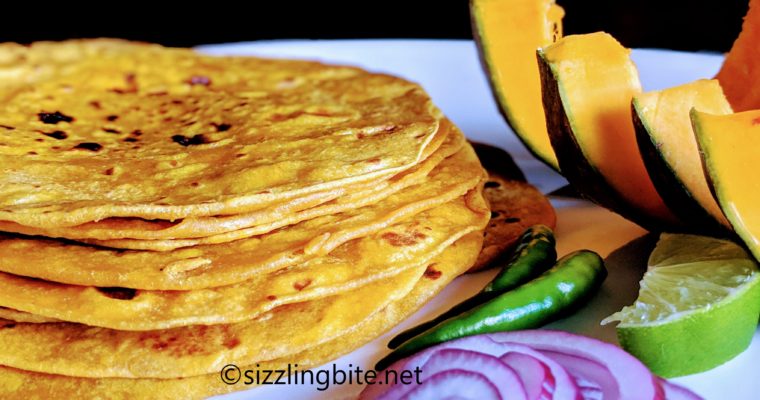 Pumpkin flatbread / rotis are nourishing and wholesome breads. Adding pumpkin puree into the dough, makes the roti very soft.
You can pack this for your everyday lunch box or even for your kids lunch box.
When my kid was 1 1⁄2 -2 years old, I was challenged to make him eat veggies. Oh my… Those were really difficult times. I was in constant search for recipes … This pumpkin flatbread/roti is one of those finds.
Moreover, pumpkin's mild sweetness worked along with a teaspoon of jaggery/Gur (or brown sugar). From then on this Pumpkin flatbread/roti is my most-cherished recipe.
This pumpkin flatbread/roti has delicious pumpkin flavor. Feel free to add your favorite spice to it.
If you are looking for more pumpkin recipes click here: pumpkin bread rolls.
Pumpkin is very healthy and nutritious. I used kabocha pumpkin here. Its other name is Japanese pumpkin. It is used widely in Asia. Kabocha has velvety texture and is naturally sweet.
One cup of Kabocha contains 40 calories compared to butternut squash which has 60 calories.
Kabocha's Nutrients
high in the antioxidant,
beta-carotene or vitamin A,
vitamin C,
fiber,
potassium.
You can steam kabocha for the flatbread ahead and store in the fridge for 2-3 days. Dough can be made ahead the day before and stored in fridge for busy mornings.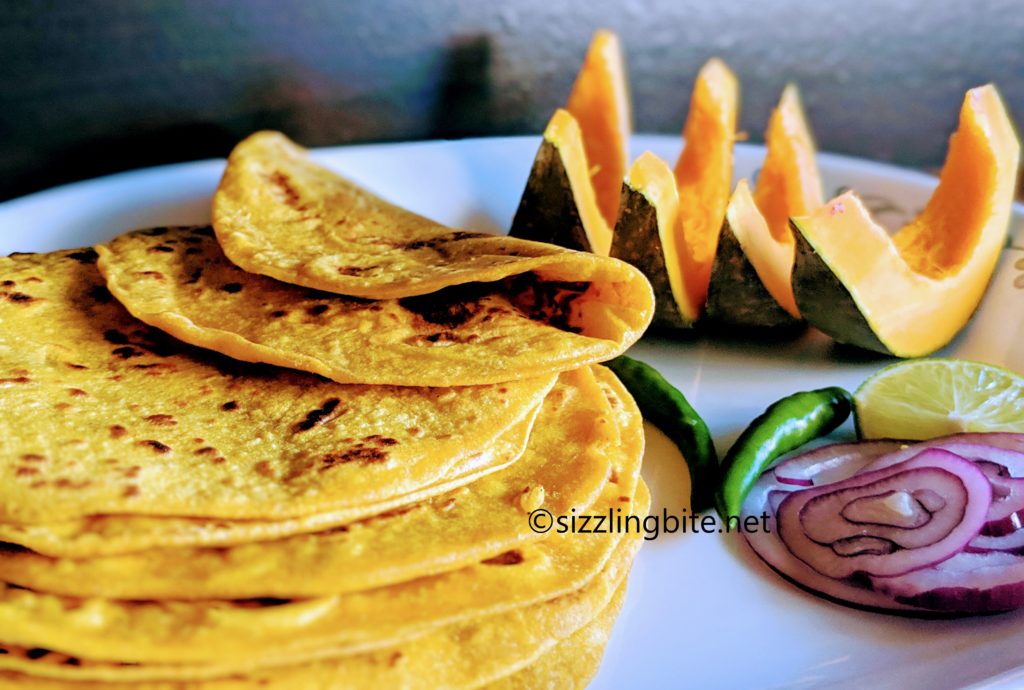 If you tried this recipe, please let us know how it turned in the comments below.
Pumpkin flatbread/chapati/roti
Pumpkin flatbread/roti are soft, nourishing and wholesome bread.
Adding pumpkin puree into the dough, makes the roti very soft.
Course: Breakfast, dinner, lunch
Cusine: Indian
Preperation Time: 10 minutes
Cook Time: 20 minutes
Total Time: 30 minutes
Servings: 12
Ingredients
Kabocha pulp: 1 cup
Whole wheat flour: 1 ½ Cup
Oil : 1 teaspoon
Salt:1⁄2 teaspoon
Clarified ghee or butter
Jaggery 1tsp optional
Instructions
Wash the pumpkin, cut it  and discard the seeds and veins.
Now steam the pumpkin, along with skin in steamer till it is tender and easy to mash.
Let it cool and then scoop of the flesh, discarding the green skin.

In a bowl Take whole wheat flour, salt, pumpkin puree, oil mix everything and knead it well till you achieve a soft pliable dough. (I did not add any water to make the dough)

Cover the dough and Rest it for 30min.

Divide the dough into 12 equal portions. Make round balls. Take a ball dust some flour and spread them with the roller into thin flatbread/roti.

Heat a heavy skillet or griddle over a medium Heat and cook the flatbread for a 1 minute until you start to see some bubbles. Flip it and cook for another 30 seconds or so, keeping a gentle pressure using a flat spatula on each side until it puffs.
Remove the flatbread/roti when golden dots appear and apply some clarified butter(ghee) or butter.

Now place it in a warm dish or foil paper and wrap it to keep it warm. Repeat this process for every roti/flatbread.
You can serve with any Raita (flavoured yogurt) and pickle.
Recipe Notes
We can steam kabocha ahead and store in fridge for 2-3 days.
Variation
Steamed sweet Potato can be used in place of pumpkin puree.