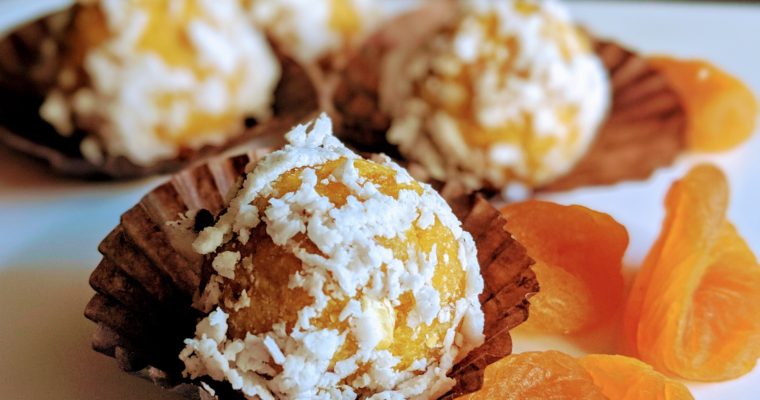 Energy Balls with Apricots are full of protein and bursting with fruity flavor. These energy balls are naturally sweet and chewy with no added processed sugar. And, this, No-bake version, makes a great healthy snack for lunch box or after-school snack for kids!
Even my husband liked them, and he generally steers clear of my healthy snack experiments and particularly he makes fun of my usage of oats in recipes. If it looks healthy, he keeps on wandering the kitchen area looking for other snacks. But this one when he tried, he went yum yum and asked for green tea for pairing.
When my husband asked, what goes in these bites? Of course, I conveniently hide the fact that it contains Oats… with a wink…lol ! Most of the taste comes from the Apricots, almonds and coconut.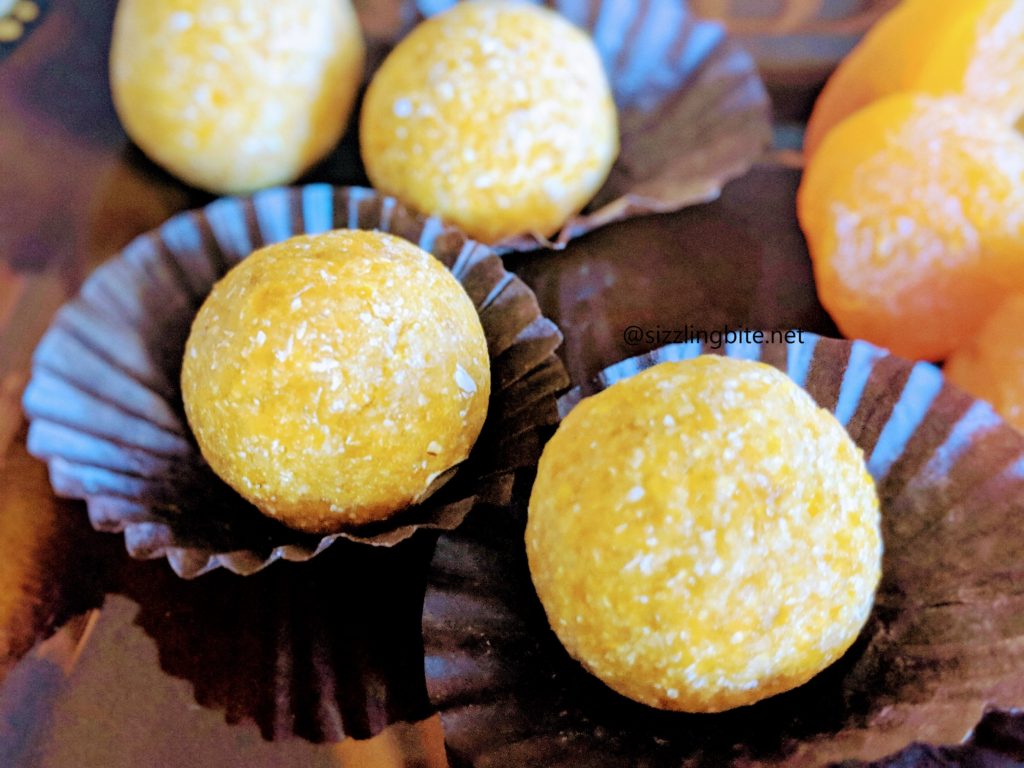 These Apricot energy balls takes few minutes to whip up and preserve them for seven days in the refrigerator. They're the perfect little bite-sized snack when you need something quick, plus they're filling and healthy.
For gluten free Version
Use gluten free Oats flour
For a nut-free version
Use Sesame seeds or Hemp seeds or Sunflower seeds powdered instead of Almonds.
How do you make energy balls?
Process the Oats until you reach fine crumbs and keep aside.

I used this Almond flour

Grind soaked apricots into a crumbly paste.

Mix all the ingredients well and without any lumps.

Use your hands to roll the dough into balls

Roll the prepared apricot energy balls on Coconut if desired. You can also substitute coconut with Hemp seeds or almond flakes.
How to store these Apricot energy balls?
Store your energy balls in an airtight container in the refrigerator for up to one week.
Can I freeze these energy balls?
Yes. You can freeze the energy balls on a baking sheet until solid, then transfer to an airtight container in the freezer for a month. Let sit at room temperature for a few minutes before eating.
Can these be customized?
Yes. Here are a few ideas to get you started:
Make your own almond flour by running almonds through your food processor until finely ground and powdery. Similarly, with Oats to make Oat flour. I used Almond flour for this recipe.
These Energy Balls with Apricots Recipe Is the Perfect Pre-Gym Snack
They satisfy the sweet tooth while still being packed full of goodness. Take a couple out with you for an afternoon snack or to give you an energy boost before the gym. Five ingredients and 15 minutes are all you need to make enough of these bite-size snacks for a whole week!
No-bake energy balls with Apricots Receipe
These Energy Balls with Apricot are Full of protein and bursting with fruity flavor. They're naturally sweetened and chewy with apricots and no processed sugars used here. Five ingredients and 15 minutes are all you need to make enough of these bite-size snacks for a whole week!
Course: Snack
Cusine: global
Preperation Time: 15 minutes
Soaking of Apricots: 10 minutes
Servings: 12
Ingredients
3⁄4 cup almond flour
½ cup rolled oats
1⁄8 teaspoon vanilla extract
1 cup dried apricots
1⁄3 cup unsweetened shredded coconut or fresh coconut
Instructions
Soak the dried Apricots in warm water for 10 minutes.
Mean while In a food processor/ blender grind the oats to the powder and keep it aside.
Now add the soaked apricots to the blender (with no water) and grind to a paste and keep aside.
In a separate bowl take the oat flour, almond flour, Vanilla extract and apricots paste and mix well.
Place the shredded coconut on a plate. Scoop out a tablespoon of the apricot mixture and roll into a ball in your hands. Roll in the shredded coconut and place on a plate or tray. Repeat till you finished with all the mixture.
Stored in an airtight container in the refrigerator for 7-10 days or freeze it.
Tips to make Energy Balls:
If you are using Seeds to powder, be careful that you dont end up with seed butter.

If you are making your own almond flour dont over-blend it or you end up with almond butter
Make sure you soak the Apricots first – they process much easier if you dont skip this part.