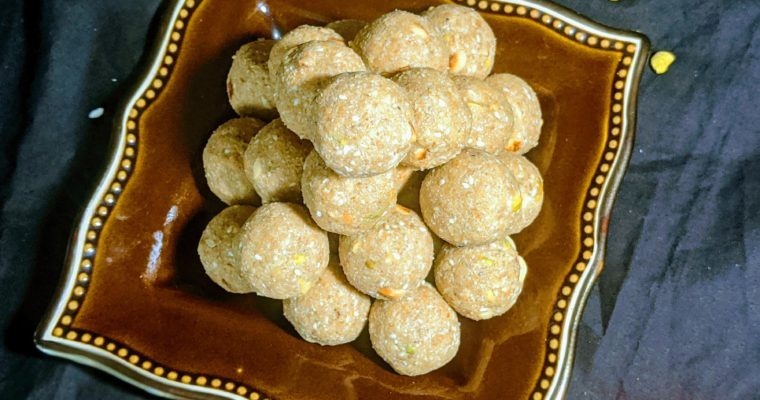 Oats Sesame seeds Ladoo is an addictive nutritious combo of Oats, Sesame, Jaggery, Clarified Butter and Nuts. These ladoo's goes well as a lunchbox snack or after-school snack. Oats Sesame seeds ladoos taste very delicious with aroma from hot clarified butter along with jaggery, roasted seeds and nuts.
It's a gluten free dessert or snack.
The taste of Oats Sesame Ladoo will depend on the quality of the Jaggery and Sesame seeds. Use fresh sesame seeds and good quality jaggery to enjoy the chewy nutty taste of sesame seeds and the sweetness from jaggery.
Which kind of Oats To Use:
Plane Old fashioned Oats or Quick Oats can be used. We used Old fashioned Oats now and the roasting time took around 8 minutes but if you are using quick oats then the roasting time changes accordingly.
Sesame seeds: I used white sesame seeds as they taste better than black and brown.
Kind of Nuts to use:
you can use the nuts you like, they bring crunchiness and added protein.
Substitute for Nuts:
If you are allergic to nuts, you can completely omit the nuts, or you can substitute them with hemp seeds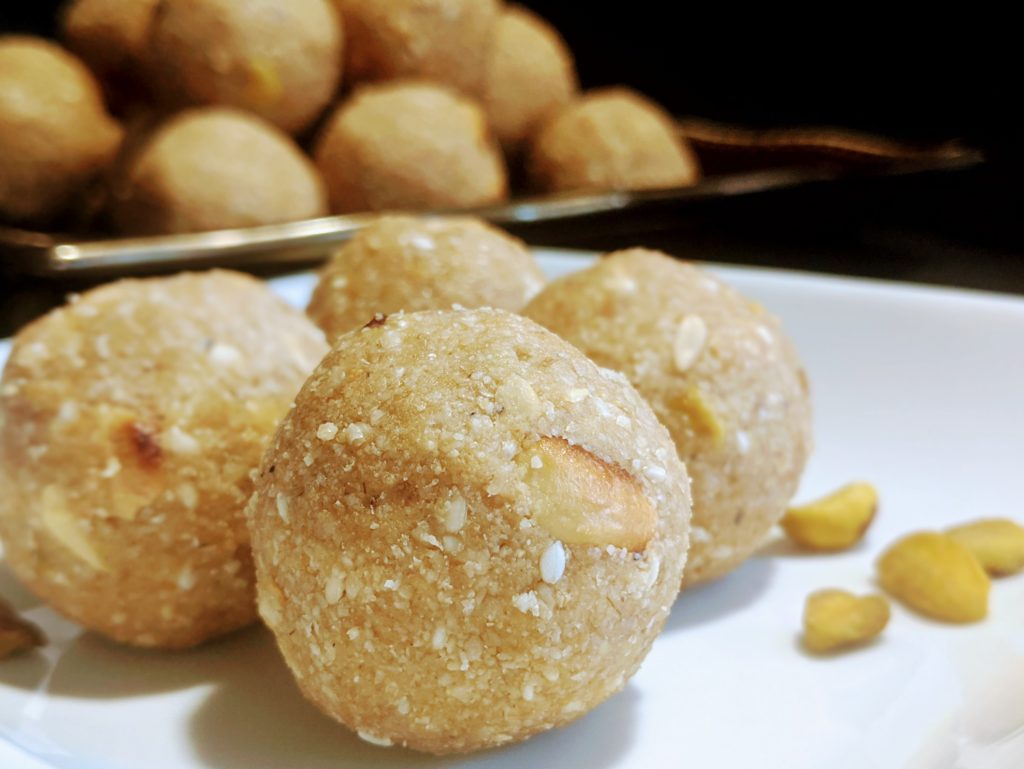 Nutrition:
Oats are fiber rich and lowers cholesterol
Jaggery and sesame seeds boosts iron levels.
Nuts are good in protein.
You might also like these:
Oats Sesame Ladoo
Oats Sesame Ladoo is an addictive nutritious combo of Oats, Sesame, Jaggery, Clarified Butter and Nuts.These ladoo's goes well as a lunchbox snack or after-school snack.
Course: Dessert, Snack
Cusine: Indian
Preperation Time: 10 minutes
Cook Time: 10 minutes
Servings: 25 small Ladoos
Ingredients
Oats: 1 ½ Cup
Sesame seeds: 1 Cup
Jaggery: 1 ½ Cup
Cardamom seeds: 1 teaspoon freshly powdered
Melted Clarified Butter ghee: ½ Cup (7tbsps= 6+1) divided
Dry nuts: ½ Cup pistachios + cashews
Instructions
On low-to-medium heat add 1 tablespoon clarified butter and then add cashews. Roast them till light brown. Then keep aside.
Now add pistachios and roast them for just 30 sec to a minute and be careful not to change the color of pistachios. Keep aside.
Now on the same pan dry roast Oats and Sesame seeds separately until lightly golden, cool them.
Powder oats and sesame seeds separately.
Now powder the jaggery.
Now heat the clarified butter and pour into the mixture, mix well and make ladoos.
Store in an air tight container and they stay good for a week to ten days. You can store in the fridge too for longer shelf life.
To make ahead - You can mix everything together and keep in fridge for more than a month and whenever you want, heat the clarified butter and mix with the mixture and make balls.
Recipe Notes
Tips:
If the ladoos are not coming together add more hot Clarified butter and make ladoos.
Select good quality of jaggery, sesame seeds and Clarified butter.
How to make Oats Sesame seeds ladoo
To make this ladoo, you need to dry roast oats, sesame seeds separately on medium heat. Cool them and powder them separately and take out in a clean bowl.
Add Jaggery powder to the above mixture.
Add the roasted nuts and Cardamom powder to above mixture and mix well.
Now heat the clarified butter and add to the mixture and mix well and see if you can make balls out of the mixture/ if you cant make balls with the mixture then add more hot clarified butter. Make Ladoo's.