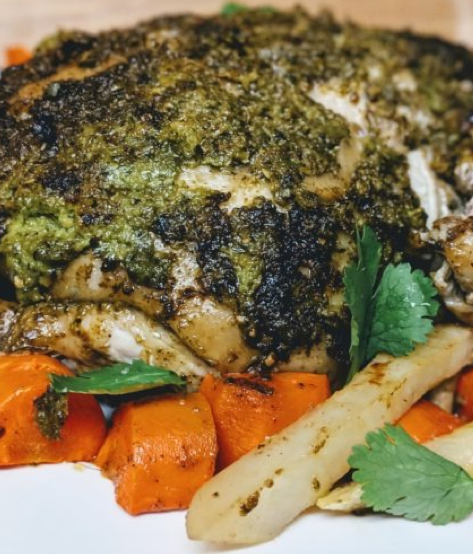 "This year Our Thanksgiving Dinner is Masala Cornish Game hens. On the very morning of Thanksgiving, we wanted to get a pre-cooked turkey from Wholefoods. We were surprised that last minute purchase of a turkey is a no-no. So, we decided to get a whole chicken, and lo behold those were sold out. With little hesitation, we purchased a little Cornish hen. And, to our delight, the Masala Cornish Game Hens turned out to be juicy and tender. More over its the perfect size for our small family and we didn't miss out the – "whole bird"- wow factor. 😊 Happy Thanksgiving to everyone. " - Haritha
Course: Main Course
Cusine: Indian
Preperation Time: 20 minutes
Cook Time: 1 hour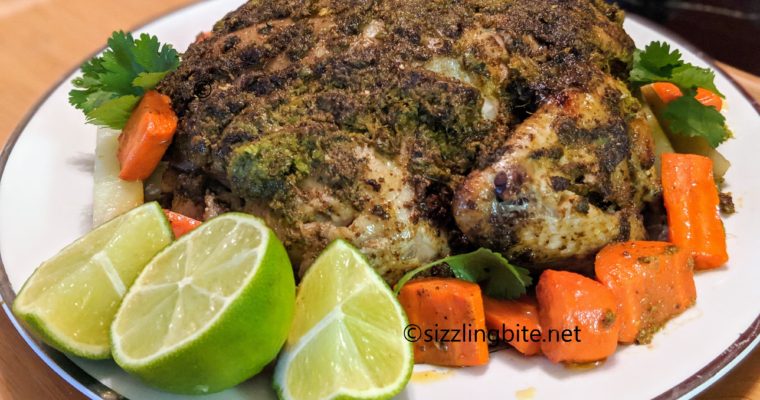 Masala Cornish Game Hen
Masala Cornish Game Hens are juicy and tender. More essentially it was the perfect size for our small family and we didn't miss out the – "whole bird"- wow factor. 😊
Ingredients
Cornish Game Hen – 1 or 2
Potatoes – 2
Carrots – 1
Lemon or Lime Wedges – for garnish
Dry Masala
Star Anise – 1
Cinnamon Stick – 1″ pc.
Whole Cloves – 4
Green Cardamom – 3
Black Cardamom – 1
Whole Black Pepper: 1tsp
Red Chilli Powder: 1 Tsp
Coriander Seeds – 1 tbsp
Cumin Seeds – 1 1⁄2 Tsp
Wet Masala
Canola Oil – 3 tbsp
Garlic Cloves – 6
Ginger – 1 tbsp
Green Chillies – 6 or to taste
Onion – 1⁄4 of a large onion
Cilantro – a small bunch leaves and stems
Instructions
Dry Masala
In a heavy-bottomed skillet, dry roast all the spices till you get nice aroma then turn off the stove.
Once the mixture comes to room temperature, grind into fine powder and keep aside.
Wet Masala
Blend the above "Wet Masala" into a smooth paste without using any water.
Add Salt to taste and set aside.



Process
Wash Cornish hens and pat dry well-using tissue paper, including its cavity.
Poke holes in the Hen with a fork or a knife so that the hen absorbs the masala.
Apply the "Dry Spice Mix" in the cavity and between its skin and flesh.
Mix the remaining "Dry masala into Wet Masala".
Rub this Marinade all over the Hen.

Wrap the Hen in a Saran Wrap tightly and marinate for at least 2 hours or overnight if possible.

When ready to cook, preheat the oven to degrees 400 degrees F.
Cube the Potatoes and Carrots. Keep aside.
In a baking dish, place the Vegetables at the bottom and place the Hen on top of the vegetables, bake for 15minutes.
Now lower the oven temperature to 350 degrees F and cook for another 45 minutes (checking every 15 minutes).
Now turn the oven into broil mode and bake for 3-5 minutes.
Transfer to the platter and garnish with Lemon or Lime wedges.