This is a Bread which is mildly sweet with the colorful tiny bits of Tutti frutti inside a white bread.
Course: Breakfast Snack

Cuisine: Indian
Preperation Time: 2 hours
Ingredients
3 cups all-purpose flour/maida
4 tbsp powdered sugar
1 tsp salt
1⁄2 cup soft butter/refined Oil
1⁄2 cup milk powder
1 tbsp active dried yeast/instant yeast
1⁄4 cup lukewarm water
1 cups Tutti Frutti (if you like little less then ¾ cup/ if you prefer more then you go to 1 ½ cup)
2 tbsp milk for brushing on top
2 tbsp butter

Type of yeasts
Active dry yeast - small granules
Instant yeast - little big granules
fresh yeast - almost like a thick paste
Active dried yeast:
Take warm water and add ½ -1 tbsp sugar and yeast then keep aside till the yeast is activated and foams well.
Make a well in the sifted flour and add the proofed yeast. Mix well and add more water to make a soft dough.
Instant Yeast
If you are using instant yeast, although it can be added directly to the flour, I recommend proofing the yeast for two reasons. First, if the instant yeast has expired or nearing to expiry the bread dough will not rise and the effort and material will go waste. Second, wherever and whenever the instant yeast come in contact with salt, the yeast gets killed.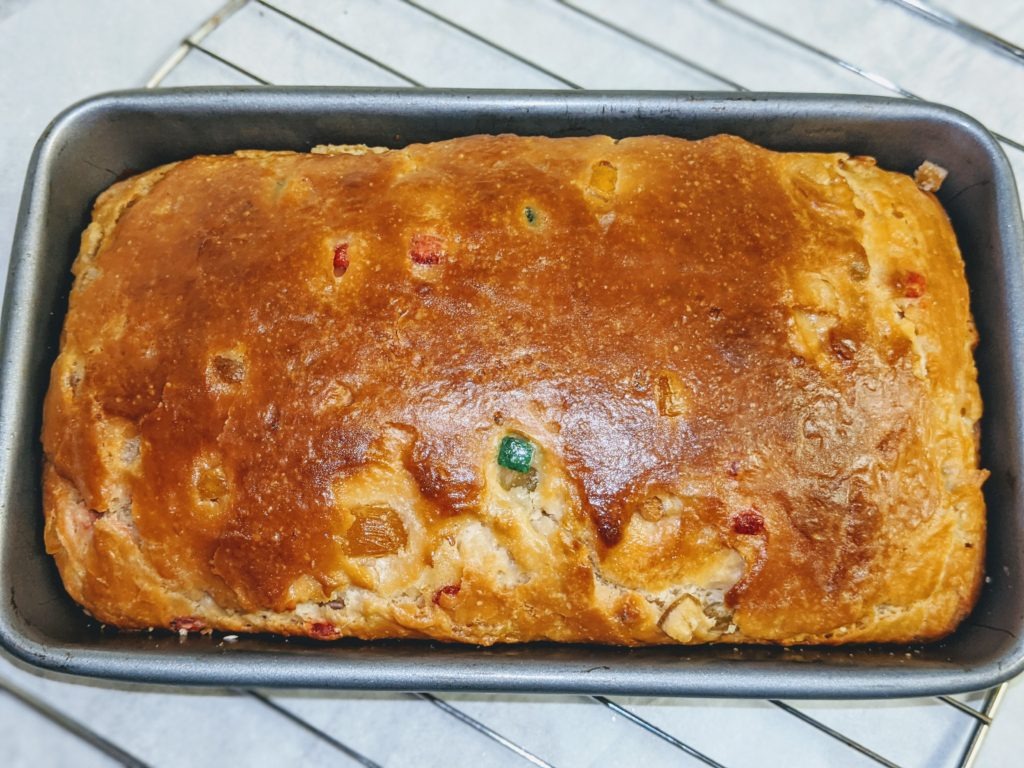 Instructions
In a bowl add 1 Tbsp of powdered Sugar,Yeast and warm water mix well and Keep it aside till you see bubbles and frothy mixture. (It takes around 5 minutes).

Mean while take another bowl and Sift flour, salt, milk powder and sugar to avoid any lumps.

Make a well in the sifted flour and add the proofed yeast and mix well. Add oil and sufficient water to form a soft dough and knead for about 10 minutes and keep kneading till the dough becomes soft and elastic. It will take another 4 to 5 minutes.

Transfer dough to a greased bowl. Turn the dough so that it is evenly coated with oil. Cover with clingfilm and rest for 40 minutes or till double in volume.

Mix 1 cup tutti frutti with 1 tbsp flour and keep it aside.Punch down the dough and place over the Tutti Frutti mix and Knead the Tutti Frutti into the dough and shape into a loaf. Place the loaf into the prepared pan and cover with clingfilm and rest for 40 minutes till double in volume and the dough comes to the top of the pan.

15 minutes prior, preheat oven to 350F/180°C.Brush the top of the bread gently with milk.

Bake the bread for around 35 – 40 minutes till the top is a beautiful brown and a toothpick inserted in the bread comes out clean. Brush the top of the bread with melted butter.

Cool the bread inside the pan for 20 minutes then on a wire rack for 5 – 6 hours till it comes to room temperature.

Cut into slices and serve warm with butter and a cup of tea or coffee!
Recipe Notes
It almost took 1 cup water to make the dough (the amount of water it takes to make dough truly depends on the age of flour and weather conditions)
Milk powder increases the sweetness of Tutti Frutti Bread. You can also use sugar to make the bread sweeter, however, increasing sugar content might increase the bread fermentation time. If the bread takes the time to ferment, you must give it time. You should always ensure to wait until the bread doubles in volume, irrespective of the time it takes. Time of fermentation is also dependent on the weather conditions. Once you have the dough ready, you can use the same dough to give it a shape of a bread loaf.
"The love towards Tutti Fruity bread invokes childhood nostalgia. Every time I make this bread, my heart fills with warmth and comfort. The colorful pieces of tutti frutti in each slice is like a paint-filled canvas. I remember taking out tutti fruity bits and keeping back the bread with holes. Ah! those little joys of being naughty. This bread was available in an era before bakeries popped up in almost every town. These days we mostly come across tutti frutti cakes. Back then, bread was not a frequent item in our homes. We would get it only when we had fever and mother would pair 1 or 2 slices of this bread with hot milk. Tutti-fruity bread tastes best with a generous coating of butter." - Haritha