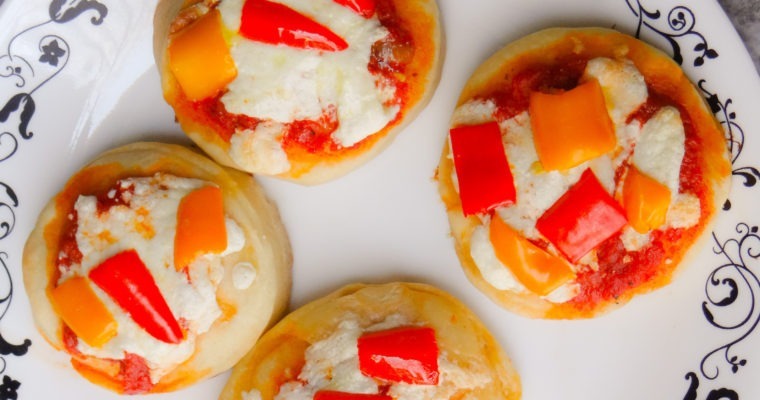 Easy mini cheese pizzas for quick weeknight dinners  and parties . These cute mini cheese pizzas are so yummy. Some years ago it was always store brought pizzas only. Eventually, that changed when my friend Rania gave me some home-baked pizzas . It was an easy recipe and it did not need any special baking skills. This mini cheese pizza became my kids favorite. I am sharing the exact recipe for mini cheese pizza with you.
Ingredients
3 cups all-purpose flour
1 cup milk
1⁄3 cup olive oil
tomato sauce 1 cup
1 table spoon original dry yeast
2 spoon sugar
1⁄2 spoon salt
mozzarella cheese cubed or shredded 8 oz.

Instructions
First add warm milk to yeast and sugar in a bowl. Allow the yeast to become frothy , usually 10 minutes.
Add flour ,salt, olive oil and mix the dough. It should be soft and not sticky.
Knead the dough for 5-7 minutes .
Cover and let the dough rise in a warm place until it has doubled in size.
Knead the dough again for a minute and let the air out.
Flatten the dough with rolling pin and cut it into small round shapes using metal circle cutter (round lid works).
Next, apply tomato sauce on each of the mini pizza and add cheese on top of it.
Preheat oven to 410 degrees and bake it on top rack for about 12- 15 minutes till the edges are golden brown.
If using Peppers or vegetables pop them in after pizza is cooked for 10 minutes.
I usually make extra batch  and freeze the dough after it doubles in volume for later use. Whenever I need I thaw overnight in fridge and use.